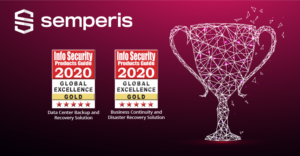 Recognized for both Business Continuity and Disaster Recovery Solution and Data Center Backup and Recovery Solution categories
NEW YORK–(BUSINESS WIRE)–Semperis, the leader in identity-driven cyber resilience, announced today that Info Security Products Guide, the industry's leading information security research and advisory guide, has named its Active Directory Forest Recovery (ADFR)/Directory Services Protector (DSP) a gold winner in the 16th Annual 2020 Info Security PG's Global Excellence Awards® in both the Business Continuity and Disaster Recovery Solution and Data Center Backup and Recovery Solution categories.
These prestigious global awards recognize cybersecurity and information technology vendors with advanced, ground-breaking products, solutions, and services that are helping set the bar higher for others in all areas of security and technologies.
As the keeper of the keys to the kingdom, Active Directory (AD) is a prime target for attackers. Semperis DSP stops cyberattacks in their tracks by continuously monitoring your AD for malicious activity, identifying vulnerabilities, and enabling rapid response. Unlike tracking tools that rely on agents and security logs, DSP tracks changes even if active security logging is turned off, logs are deleted, or agents are disabled.
For organizations that cannot tolerate lengthy outages or degraded service, Semperis ADFR orchestrates a fully automated AD forest recovery process – avoiding human errors, reducing downtime to minutes instead of days or even weeks, and eliminating the risk of malware reinfection. Traditional AD backup tools only address recovery from IT operational issues, where AD is affected, but host servers are not. Semperis ADFR is the only solution that can recover AD even if host servers are infected or wiped out.
"Being able to say no to ransom and blackmail demands makes us all safer. Our mission is to empower organizations to make the right decision without putting themselves at risk of severe operational disruption and loss of revenue, or even being shut down completely," says Mickey Bresman, CEO at Semperis. "We're honored to receive this recognition from Info Security Products Guide, which further confirms our commitment to making the world a safer place against the backdrop of escalating cyberattacks."
More than 35 judges from around the world representing a wide spectrum of industry experts participated in the judging process.
About Info Security PG's Global Excellence Awards
Info Security Products Guide sponsors the Global Excellence Awards and plays a vital role in keeping end-users informed of the choices they can make when it comes to protecting their digital resources and assets. It is written expressly for those who are adamant on staying informed of security threats and the preventive measure they can take. You will discover a wealth of information in this guide including tomorrow's technology today, best deployment scenarios, people and technologies shaping cyber security and industry predictions & directions that facilitate in making the most pertinent security decisions. Visit http://www.infosecurityproductsguide.com for the complete list of winners.
About Semperis
Semperis is the leader in identity-driven cyber resilience for cross-cloud and hybrid environments. The company provides threat mitigation and disaster recovery solutions for enterprise identity-management systems – the keys to the kingdom. Its patented technology for Microsoft Active Directory (AD) protects over 40 million identities from cyberattacks, data breaches, and operational errors. Semperis is headquartered in New York City and operates internationally, with our research and development arm in Tel Aviv.
Semperis is a Microsoft Partner, and its technology is recognized by Gartner as the only fully automated AD recovery solution available in the market today. For more information about Semperis AD threat protection and recovery, visit www.semperis.com.
Follow:
Contacts
Dan Chmielewski
Madison Alexander PR
714-832-8716
949-231-2965
[email protected]