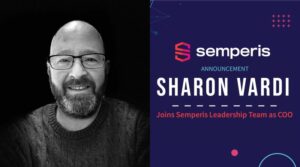 Semperis, the pioneer of identity-driven cyber resilience for enterprises, today announced the appointment of Sharon Vardi to the newly created role of Chief Operating Officer. Vardi will be responsible for the company's global operations, strategic alliances, and channel ecosystem.
"Semperis is a company I have long admired, and I'm incredibly energized to join the team," said Vardi. "The market potential and value creation at Semperis is tremendous given its passionate team and cutting-edge products. Semperis continues to win the hearts and minds of customers, partners, and investors."
Vardi is an industry veteran with 25 years of experience developing and scaling organizations, from start-ups to publicly traded companies. As COO, Vardi will report directly to CEO, Mickey Bresman, and will support Semperis' long-term growth strategy. Prior to joining Semperis, Vardi held senior executive positions at Prevoty (acquired by Imperva), Securonix, and Ernst & Young.
"We far surpassed our growth targets in 2019, and now we did it again in the first quarter of 2020," said Bresman. "Semperis is propelling forward at an unprecedented rate, and Sharon's vast experience in building cybersecurity companies will help lead us through our next phase of growth and innovation."
Semperis continues to expand its leadership team, hiring in all functional areas of the company. Other recent appointments include Debbie Chun as Chief Administrative Officer, and Dov Mendelovich as Vice President of Global Customer Success.
About Semperis
Semperis is the pioneer of identity-driven cyber resilience for cross-cloud and hybrid environments. The company provides cyber preparedness, incident response, and disaster recovery solutions for enterprise directory services—the keys to the kingdom. Semperis' patented technology for Microsoft Active Directory protects over 40 million identities from cyberattacks, data breaches, and operational errors. Semperis is headquartered in New York City and operates internationally, with its research and development team distributed between San Francisco and Tel Aviv.
Semperis hosts the award-winning Hybrid Identity Protection conference. The company has received the highest level of industry accolades; most recently being named Best Business Continuity / Disaster Recovery Solution by SC Magazine's 2020 Trust Awards. Semperis is accredited by Microsoft and recognized by Gartner. For more information, visit www.semperis.com or follow Semperis on Twitter @SemperisTech.
Follow Semperis
View source version on businesswire.com: https://www.businesswire.com/news/home/20200505005212/en/
Contacts
Dan Chmielewski
Madison Alexander PR
714-832-8716
949-231-2965
[email protected]